Gouville-sur-Mer, seaside resort in the Contentin peninsula in Basse-Normandie.

Book your stay in a mobile home or camping pitch at BELLE ETOILE CAMPSITE in Gouville-sur-Mer, Manche, Normandy.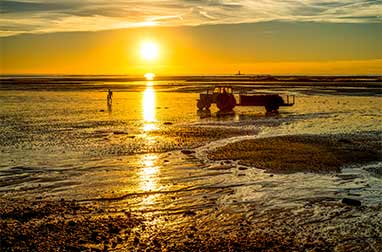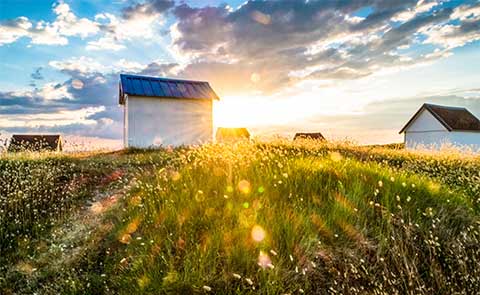 A short walk away from BELLE ETOILE campsite, don't miss a visit to the beach cabins with multicoloured roofs, a great place for photography and painting enthusiasts.
Wander along the dune to discover its fauna and flora, and small natural harbours.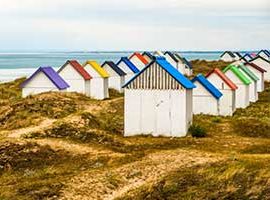 On the foreshore, get involved with some shellfish harvesting, an oyster farm visit, some water sports and many other activities such as sand yachting, kitesurfing, kite flying, windsurfing or horse riding.
As you leave the village of Gouville-sur-Mer, you can visit its windmill where the miller will passionately explain the different steps involved in flour production.
Discover local specialities on Friday and Monday mornings during the summer season, at the market set up on the village square.
Horse-riding enthusiasts can take advantage of riding excursions to visit this small seaside resort:
The spring tide horse-drawn carriages will show you mussel and oyster farms as you've never seen them before! Treat yourself to an excursion in nature pulled by draught horses, for a unique atmosphere and an unforgettable white wine and seafood tasting experience
The "Cavaliers de Bel Air" offer the more traditional, but just as spectacular experience of a horse ride on the beach…

Discover Gouville-sur-Mer's central beach, accessible to people with reduced mobility, and look out to sea at the Sénéquet lighthouse for a stunning view.
In the South, head to the famous Pointe d'Agon in Agon-Coutainville, and its view of Règneville sur Mer. Golf enthusiasts may like to stop at the Coutainville Golf Club on the way!
In the North, Anneville-sur-Mer is just a few miles from our 4-star campsite in Manche, as is the town of Pirou, home to the Château de Pirou, one of the oldest fortified castles in the Normandy region.
During your stay, you will also be about seven miles from Coutances, a Town of Art and History, which makes for a good day trip. Other must-see sites include Marais du Cotentin et du Bessin Natural Regional Park and Champrepus Zoo, only about eighteen miles away!