With its 29° heated pool,
Belle Etoile campsite provides fun times and the opportunity of relaxing on the deck chairs provided.

Belle étoile campsite is a campsite with swimming pool in Normandy. It is located in Gouville-sur-Mer in the Manche department. As well as enjoying a beautiful seaside location, it also features a large 29° heated pool great for fun and relaxation. Between two swims, get some shut-eye on one of the many deck chairs provided for this purpose around the pool, or sunbathe before going back to your tent or mobile home. In both cases, don't forget to wear sun cream! The swimming pool is perfect for swimming a few lengths, or taking a dip at any time of the day. For sportier guests, it is also great for a workout session.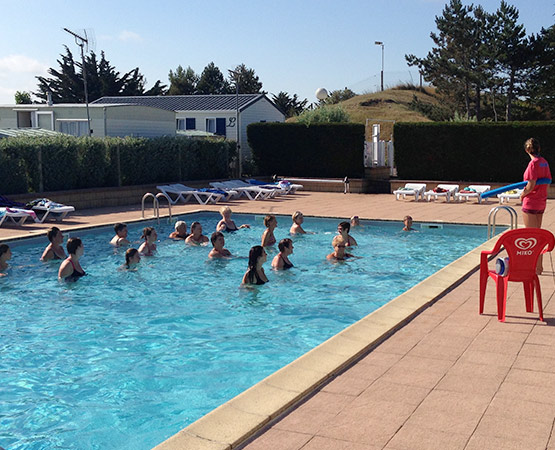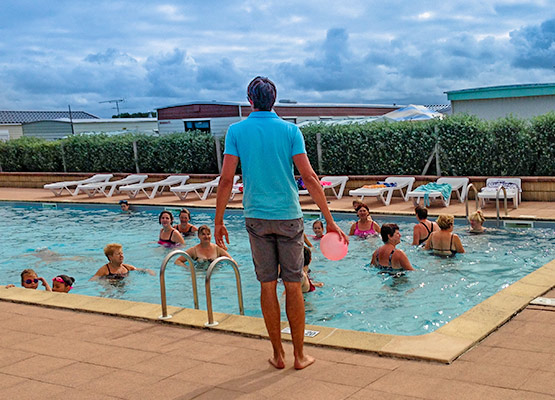 We make every effort to ensure the highest hygiene standards in the swimming area. Accessibility rules are therefore strict and prohibit access to the pool to people wearing swimming shorts. The swimming pool in our campsite in Manche has a paddling pool attached so that younger children can also enjoy the pleasures of swimming, under the watchful eye of their parents. This top-of-the-range bathing area is specially designed for family holidays and will allow you to alternate sea swimming with pool swimming, for the more fun and enjoyment!
In season, active holidaymakers can start the day with a muscular workout.
Smaller children can enjoy the paddling pool under the supervision of their family members. Swimming shorts are not allowed, only bathing suits.